SaniBulb™ Ionic Air Purifier & Air Sanitizer CFL Bulb
Product Reviews
|
4 Answered Questions
KILLS Deadly Viruses & Bacteria
DESTROYS Toxic Pollutants & Allergens
ELIMINATES Tough Unpleasant Odors
IMPROVES Indoor Air Quality & Health
SAVES Money & Lasts 10x Longer
REDUCES 75% Energy & Footprint
FIGHTS Pollution & Global Warming
PROVIDES Instant Flicker Free Light
Order Risk Free
When you purchase the SaniBulb™, you do so at absolutely no risk. It comes with a 100% satisfaction guaranteed warranty. If it fails to perform according to its specifications or is defective, it will be replaced immediately.
Order Risk Free
Code
Product Name
Price
Quantity
10001
SaniBulb™ 15W Warm White (2700 K): 60W Incandescent Bulb Replacement
Treats 100 Sq. Ft.
$21.99
All Product Reviews for
SaniBulb™ Ionic Air Purifier & Air Sanitizer CFL Bulb
Overall Product Rating:
Rated
4.9

out of 5 stars |

12

Reviews
| | | |
| --- | --- | --- |
| 5 star: | | 11 |
| 4 star: | | 1 |
| 3 star: | | 0 |
| 2 star: | | 0 |
| 1 star: | | 0 |
Verified Buyer
SaniBulb Saves Money and Protects Environment
By
Patricia
(Logan) [8.11.2020]
SaniBulbs are a good investment to make to protect against germs and indoor pollutants. Here are the pros that I experienced myself- pleasant light, flicker-free, kills germs and lasts for 10,000 hours.. Definitely consider investing in this product for your home or office.
Verified Buyer
SaniBulb Destroys Pollutants and Unpleasant Smells
By
Robert
(Mandan) [10.1.2019]
Quite an impressive product, SaniBulb™ Ionic Air Purifier & Air Sanitizer CFL Bulb. I use it in my closet which is lightly covered and not tightly shut. It solves dual purpose of adding light in closet and keeping smells/germs in check. Totally recommend.
Verified Buyer
SaniBulb Improved Air Quality With Cost Saving for Our Office
By
Cat
(Cleveland) [8.12.2019]
After going through EPA's report on indoor air pollution I decided to do something about the air quality in my office for the sake of my health as well as of my employees. After much research we decided on using SaniBulb's that ensured us cost savings, energy saving as well as considerable improvement in indoor air quality. Thank you for creating a product that helped us contribute in reducing our carbon footprint to fight global warming.
Verified Buyer
SaniBulb is Awesome for Creating Clean Air
By
Matthew
(Smyrna) [7.18.2019]
I was looking to create a sterile surface area and used the SaniBulb™ Bulb for the purpose. Very happy with the result. It destroyed the toxic pollutants and allergens and I felt noticeable difference in the indoor air quality.
Verified Buyer
SaniBulb™ was teh Perfect Choice for My Daycare
By
Cynthia Summer
(Missoula) [3.17.2019]
I operate a licensed daycare and in the flu and cold season I needed something to control the spreading of colds. Of course, I wanted something cost-effective. I had already tried your deodorizing pouches for my freezer after it was accidentally unplugged and meat spoiled. The pouches rid my freezer of the odors! So, I naturally decided to go for your SaniBulb™ Ionic Air Purifier & Air Sanitizer CFL Bulbs and I am glad I did! They are superb for sanitizing and improving indoor air quality. Thank you for your great products!!
Verified Buyer
Office Air Quality Improved When We Got SaniBulb™
By
Gary
(Birmingham) [2.16.2019]
As an office manager I am very impressed with the SaniBulb™ Ionic Air Purifier & Air Sanitizer CFL Bulb that harnesses power of light to deodorize and clean the air. It has ensured cost saving and energy efficiency all the while reducing pollution. Most of our employees are extremely pleased with the indoor air quality now.
Verified Buyer
Sanibulb™ Air Sanitizer & Air Purifier Solved the Problem !
By
James
(NJ) [12.13.2015]
I wanted to let you know that your Sanibulb™ Air Sanitizer, Air Purifier & Energy Saving CFL Bulbs are excellent. I had water and mold damage in my home and tried everything under the sun to get rid of the smell and dampness. Your products solved the problem!!! Thank you
Verified Buyer
My SaniBulb™ Air Purifier Success Story
By
Susan Hampton
(FL) [10.12.2015]
I had a severe mold problem in my home and bought SaniBulb™ Air Sanitizer, Air Purifiers & Air Cleaner CFL Bulbs from IMTEK. I only had them in my home for a couple of days and could feel a difference immediately. There was a very clean air that emanated from the SaniBulb™. I knew something was happening from the first time I used these air purifiers. I used 8 SaniBulbs™ throughout my house and after a few days I felt it had completely handled the mold problem. My house felt clean without the smell of mold. I highly recommend SaniBulb™ Air Sanitizer, Air Purifiers & Air Cleaner CFL Bulbs! Thanks IMTEK for a great product.
Verified Buyer
This Discrete Air Purifier Helps Me Sell Homes!
By
Aubrey D.
(Modesto) [8.21.2015]
I' m a real estate agent with 24 years experience. During this time, I have found that one of the things that can deter a buyer really quickly is a bad smelling house no matter how great it is. I have had people turn around and walk away without even looking at a great buy when they got hit by a foul home odor as soon as they walked though the door. It's like a smelly house is an instant 'buyer beware' red flag! So I have been always very sensitive to this issue and make sure to address it promptly when we are staging the home so its taken care of before our first open house. My single best low key ally in combating home smell has been SaniBulb™ Ionic Air Purifier Air Sanitizer CFL Bulbs. I love this air cleaner because all I have to do is simply replace the existing light bulbs and they just look like ordinary bulbs. EXCEPT, they are constantly working to clean the air and remove odors in the background. They also don't leave any scent, just clean fresh smelling air. Since they look like bulbs, we can continue to use them during showings because they don't stick out like a sore thumb. In fact, nobody ever knows we have an air cleaner in the home! I would certainly recommend this superb air purifier to other real estate agents and also home owners.
Verified Buyer
SaniBulb™ Sanitized Yeast & Dog Odors
By
Ella J.
(El Paso) [8.21.2015]
I have found that SaniBulb™ Ionic Air Purifier Air Sanitizer CFL Bulb is the most convenient product on the market for sanitizing my home and works exceptionally well. My dog had recurring yeast infections and also had the occasional accident since he was getting old. Our whole house had this horrible smell that I just could not get rid of no matter what I tried until I used SaniBulb™. I installed a SaniBulb™ Air Cleaning CFL bulb in each room and also the hallways and initially left them on for 24 hours. It worked like a charm and the odors started dissipating. By the end of the week, they were hardly noticeable and have stayed that way. Now I just use the SaniBulbs™ as I did my old ordinary lights and that has kept the foul yeast infection smell in check. Whenever we have an accident and a spike in odors, all I have to do is just turn the lights on for a few extra hours and the odors are gone. I'm very impressed with this product and would recommend it.
Verified Buyer
SaniBulb™ Cleaned my Air and made my Place Feel like a Home Again!
Since I'm using SaniBulb's lights, my place feels like home again, because the offensive smells are gone. Before, I'd walk in and wonder if animals were living here ! I'm not joking. Most people don't know that rodents, lizards, ants, crickets etc crawl into attics and external ventilation openings, where they don't only multiply happily thereafter, but also leave their waste products. When we turn on our air conditioner or furnace, those evaporating, toxic waste products, mixed with mold spores, pollen, and other contaminants, come flying into our rooms, spreading into the refrigerator, onto towels, and worst of all, into our lungs. Asthma attacks, chronic rhinitis, palpitations, anxiety feelings, digestive problems, eczema, and many other ailments are typically the result of exposure to harmful microorganisms.

Nanotechnology makes the solution of elimination of air pollution and toxicity not only very affordable, but also rewards the consumer with a stunning 75 % savings for using their phenomenal air sanitizers. Win-win, all the way. It's a must try if you have air pollution problems in your environment. I'd replace all bulbs with SaniBulb™ to make sure every room is adequately treated. Not only will you enjoy the ongoing cleaning of the air you breathe, but when you get your next electric bill, you'll have a big smile on your face
Verified Buyer
Remember the TV Commercial by a Bank, asking "What's in your wallet ?"
By
Nilufer
(az) [3.14.2015]
"Depends on what's in your air !" would be the adequate answer, because if you live in a house with toxic air, or work in an office where everybody is always sick, you may not have much left in your wallet anymore. We are what we eat, we are told, and what about what we breathe?
If we breathe bacteria, viruses, mold spores, toxins, we get sick, which is a fact. Your colleague may not even know that he or she just contracted a virus somewhere, and by the time it is known, the whole office is infected. Result: wallets go empty ! And how about mold spores streaming from the air conditioner or furnace into your home, making you so sick you can't function anymore ? Doesn't help the wallet, does it ?
I had my fair share from these situations, to the degree that I ended up chronically ill, mostly because mold spores in my residence. I tried all sorts of air purifiers, even UV lights, which I could operate only when I wasn't in the house, as they damage eyes and skin. Desperate for a simple but very effective solution, I searched the internet. When I ran into SaniBulb, I couldn't believe that a light bulb would kill mold spores, clean the air in my home, and even save 75 % energy. And one light bulb costs only about $ 22,-- ! Air purifiers with HEPA filters cost about $ 300,--, and that's the low-end version usually. SaniBulb lights cost a friction of it, need never any filters, and they sanitize my air ongoingly, by saving me a great deal of money. I just got my electric bill and compared to last year's bill for this month - I saved already about $ 10,--, which means that half of the price for 1 bulb (I bought 2) is already paid for, due to the 75 % energy savings. I didn't even buy the bulbs to save money, but to kill mold spores in my home. The savings is a bonus however, which I certainly appreciate very much. "What's in my wallet?" Money that I saved and money I didn't spend on doctors and medicine. And best of all: I feel excellent! I can breathe much better, my home doesn't smell anymore, and I will replace all of my bulbs with SaniBulb™ light bulbs eventually. Without these air deodorizing, sanitizing, and pollution eliminating light bulbs, I'd be dysfunctional.

Thank you SaniBulb!
10002
SaniBulb™ 20W Warm White (2700K): 75W Incandescent Bulb Replacement
Treats 100 Sq. Ft.
10003
SaniBulb™ 25W Warm White (2700K): 100W Incandescent Bulb Replacement
Treats 100 Sq. Ft.
10012
Ionic Air Purifier & Deodorizer CFL Bulbs: 1 Pack
1 X 75 Watt Ionic Air Cleaning Bulb
10014
Ionic Air Purifier & Deodorizer CFL Bulbs: 2 Pack
2 X 75 Watt Ionic Air Cleaning Bulbs
10015
Ionic Air Purifier & Deodorizer CFL Bulbs: 4 Pack
4 x 75 Watt Ionic Air Cleaning Bulbs
Volume Discount (Buy 6 Get 10% / Buy 12 Get 15%)
More Info
Summary
Description
Carbon Calculator
How it Works
Choosing the Bulb
Video
Q & A
Product Reviews
Light your way to a Cleaner & Energy Efficient Future
In a bold move to address poor indoor air quality problems, we have developed a revolutionary new product, SaniBulb™, which combines the energy saving compact fluorescent (CFL) lamp technology with state of the art electronic and nano photocatalytic technology. This innovative multi-tasking light bulb sanitizes, purifies and deodorizers the air harnessing the power of light while saving energy and reducing pollution! SaniBulb™ empowers every individual and organization with a simple and cost effective way to improve indoor air quality while fighting global warming. Never before have so many people had so much power to do something as simple as changing a light bulb to improve indoor air quality while saving money and fighting global warming.
Poor Indoor Air Quality is a Serious Health Hazard
No home or business environment is immune to poor indoor air quality problems. Firstly, this could result from biological contamination caused by living organisms such as bacteria, viruses, mold, pollen, dust mites and insect droppings that accumulate in ducts, carpeting, insulation and drains. Secondly, it can be caused by volatile organic compound (VOC) and chemical emissions resulting from the use of products such as cleaners, disinfectants, perfumes, air fresheners, hair sprays, cigarettes, insecticides, paint, carpets, adhesives, and laminated furniture. Thirdly, equipment such as stoves, furnaces, space heaters, printers, copy machines and various manufacturing processes can also emit noxious chemical and particulate contaminants. Unfortunately, most ventilation systems only recirculate room air and remove large particulate matter such as dirt, dust and lint. Noxious odors, pollutants and germs are left free to recirculate in the air you breathe. Over time, they could increase in concentration and result in serious indoor air pollution problems e.g. sick building syndrome.
According to the EPA, "indoor pollution can be as much as 100 times greater than outdoors." Research performed by the World Health Organization indicates over 30 percent of buildings worldwide are affected by contaminated indoor air. Since most people spend close to 90% of their time indoors and breathe about 20,000 liters of air/day, indoor air pollution poses a serious health risk. Medical problems that have been associated with poor indoor air quality include dizziness, headaches, eye, nose or throat irritation, dry or itchy skin, nausea, shortness of breath, difficulty in concentrating, fatigue, sensitivity to odors, allergies, asthma, depression, and chronic illnesses.
Light your way to a Cleaner & Energy Efficient Future
In a bold move to address poor indoor air quality problems, IMTEK has introduced a revolutionary new product, SaniBulb™ , which combines the energy saving compact fluorescent (CFL) lamp technology with state of the art electronic and nano photocatalytic technology. This innovative multi-tasking light bulb sanitizes, purifies and deodorizers the air harnessing the power of light while saving energy and reducing pollution! SaniBulb™ empowers every individual and organization with a simple and cost effective way to improve indoor air quality while fighting global warming.
Indoor Air Quality Benefits from Switching to SaniBulb™
SaniBulb™ Kills Germs
SaniBulb™ will sanitize your air by killing various microorganisms such as bacteria, viruses, fungi, mold spores and dust mites without the use of any harmful chemical sanitizers. The next generation sanitizing coating on this bulb not only kills germs, but also decomposes the cell itself along with any toxic products. SaniBulb™ will effectively decrease the spread of germs and minimize sick days. Germs cannot become immune to SaniBulbs™ sanitizing powerwhich is stronger then conventional chemical based disinfectants like chlorine and ozone.
SaniBulb™ Removes Allergens & Irritants
If you are one of the over 50 million people in America suffering from allergies, SaniBulb™ can help you. SaniBulb™ will purify your air by destroying airborne allergens and irritants such as pollen, tobacco smoke and pet dander by simply turning on your light. Best of all, this safe product eliminates the need for harmful chemicals and UV light commonly used for sanitizing. Fighting allergies has never been easier.
SaniBulb™ Destroys Deadly Pollutants
Indoor air pollution is caused by volatile organic compounds (VOCs) and chemical contaminants released from various products, appliances and equipment. It is a serious health threat and must be eliminated to provide a safe, healthy and productive environment. A simple and effective way to destroy harmful chemical pollutants like formaldehyde, styrene and toluene is to switch to SaniBulb™ from incandescent lights. The nano photocatalytic technology employed in this product will oxidize noxious chemical contaminants into harmless carbon dioxide and water by simply switching on a light bulb!
SaniBulb™ Eliminates Unpleasant Odors Safely
If you are currently using air fresheners, scented gels, aerosols or plug-in fresheners, you could be exposed to harmful chemicals such as benzene, formaldehyde and pthalates which tend to be emitted from these products. These chemicals have been linked to breathing difficulties, development problems in babies and cancer in lab animals according to the Sierra Club, The Natural Resources Defense Council, Alliance for Healthy Homes and the National Center for Healthy Housing. When you switch to SaniBulb™ , you will be destroying odors safely instead of masking them with deadly chemicals. It is ideal for any place you have persistent odors and is a healthy alternative to harmful chemical based deodorizers.
SaniBulb™ Helps Comply with Indoor Air Quality Regulations
The US Occupational Safety and Health Administration (OSHA) regulations have Permissible Exposure Limits (PEL) for hazardous chemicals. In order to provide workers a safe environment, companies are responsible for ensuring their employees are not overexposed to hazardous substances. Most other countries also have similar regulations to ensure a safe workplace and fines can be steep for non compliance in addition to negative publicity. A simple switch to SaniBulb™ can help any company create a safer environment to comply with indoor air quality regulations by destroying deadly pollutants.
Environmental Benefits from Switching to SaniBulb™
SaniBulb™ Helps Fight Global Warming
Light is powered mainly by coal burning power plants and natural gas, both of which create greenhouse gases (GHG) that cause global warming. The EPA estimates that 1.535 lbs of greenhouse gases are released into the a™osphere for every kilowatt hour of electricity generated by a coal-fired plant.
Replacing a single 100 watt conventional incandescent light bulb with a 25 watt SaniBulb™ can prevent more than 169 pounds of coal from being burned and reduce greenhouse gas emissions by 814 pounds over the lifetime of the bulb. This is over 4,000 times SaniBulbs™ own weight in greenhouse gases!!
Looking at the big picture, it is estimated that if every American swapped a single incandescent bulb with a CFL, it would collectively save $8 billion in energy costs, prevent burning 30 billion pounds of coal and remove 2 million cars worth of green house gas emissions from our environment. Now imaginewhat a difference we can make if we switched all our incandescent light bulbs to SaniBulb™ .
Never before have so many people had so much power to do something as simple as changing a light bulb to fight global warming while improving indoor air quality and saving money!
SaniBulb™ Prevent Other Pollution Too
Coal-fired power plant smokestacks are also a big threat to health. In addition to releasing carbon dioxide (CO2), they also release sulfur dioxide (main cause of acid rain), nitrogen oxide (causes smog and acid rain), radioactive pollutants (can release more than a nuclear power plant) and particulates. These deadly pollutants could lead to heart attacks, strokes, asthma attacks and premature deaths. Using SaniBulb™ will help reduce this pollution and smog by using less energy and contributing to a safer environment. Furthermore, it can also help reduce the negative impacts from radioactive waste and hydroelectic plants.
SaniBulb™ Makes your Lighting Carbon Neutral
While CFLs use 75% less electricity than their incandescent counterparts, they still require some electricity, which results in carbon dioxide emissions. We use a portion of the proceeds from the sale of each bulb to offset the carbon dioxide emissions that will be generated by SaniBulb™ over its entire life, making it a true carbon neutral product. The carbon offsets are made by donations of our CFLs through qualified reputable organizations so they have an immediate and real impact on global warming unlike planting of trees which could take many years to produce the same impact. We clearly state the Total Carbon Footprint Reduction (sum of the carbon reduction from converting from incandescent bulbs plus the free carbon offsets for the SaniBulbs™) you will experience when you switch to any of our SaniBulbs™.
SaniBulb™ Reduces your Overall Carbon Footprint
By using the single multi tasking SaniBulbs™ instead of electrically powered air purifiers and incandescent lights, you will be using less energy by retiring redundant appliances and inefficient lighting. Furthermore, by discontinuing the use of chemically based sanitizers and deodorizers you will further reduce your carbon footprint since these products are consumables that require a significant amount of energy and resources to produce. Therefore, by using our carbon neutral SaniBulbs™ you will be generating less carbon dioxide and reducing your overall carbon footprint in addition to making your lighting totally carbon neutral.
Savings from Switching to SaniBulb™
SaniBulb™ Reduces your Energy Consumption by 75%!
SaniBulb™ is starting to light the way to a more energy efficient tomorrow and their popularity is not surprising. Compared to the energy guzzling old fashioned incandescent light bulb technology, Sanibulbs™ extreme energy efficiency is nothing short of dazzling. A 25 watt SaniBulb™ provides an equivalent of 100 watts of traditional incandescent light resulting in energy savings of about 75%.
Due to the enormous potential to increase energy savings and reduce pollution, various organizations have undertaken a variety of creative measures to encourage the adoption of CFLs. In addition, governments across the globe have taken (e.g. US, Canada, Australia & Ireland) or are considering strong measures to encourage adoption of CFLs or to entirely displace incandescent light bulbs. Ireland will be the first country to implement a ban in 2009 and Australia will phase out incandescent lights by 2010. USA and Canada have also committed to phasing out incandescent lights starting in 2012.
SaniBulb™ Saves Money!
Although the up-front cost of a SaniBulb™ is higher than a standard incandescent bulb, the cost savings over the life of the bulb can be striking since it is much more energy efficient, lasts 10 times longer and it eliminates the need for expensive and harmful chemical based air sanitizers, purifiers and deodorizers. Let's consider a conservative example for switching to a single SaniBulb™ . Assume that:
You switch one 100 watt incandescent bulb with a 25 watt SaniBulb™ that produces the same amount of light.
SaniBulb™ costs $16.99 and lasts 8,000 hours.
A standard incandescent bulb costs $0.50 and lasts 750 hours. Therefore, 10 standard bulbs are required to last as long as the one SaniBulb™ for a total cost of $5.
The cost of electricity is $0.101/kWh which is a 2006 estimate. It is closer to $0.17 - $0.20/kWh in areas like the Northeast.
You currently use about $60/year chemical based deodorizer, sanitizer or filter consumables which you could eliminate by switching to SaniBulb™ . Over the 8000 hour SaniBulb™ life span, it would save $300.
The life cycle cost & savings break down is as follows:
Item
Incandescent Bulb
SaniBulb™ CFL
Estimated Savings

Bulb Cost(s)

$5.00

$16.99

-$11.99

Operating Cost (energy & maintenance)

$96.00

$16.00

$79.00

Deodorizers/Sanitizers/Filters Cost

$300.00

$0

$300.00

Net Life Cycle Savings

$367.01

By replacing just one incandescent light bulb with SaniBulb™ , you will save over $350 over the life of that bulb which is over $70/year. If you replace more bulbs, your savings will be proportionally greater especially when you factor in the AC savings during the hot summer months. In the long run, SaniBulb™ won't cost you money, it will save you money!
Other Benefits from Switching to SaniBulb™
SaniBulbs™ Excellent Light Quality is Warm & Inviting
There is no reason to be concerned about CFL lighting quality anymore. It has been improving dramatically since they were first introduced almost 20 years ago. SaniBulb™ light quality now rivals traditional light bulbs in many applications. They turn on instantly, don't hum, are flicker free and the 2,700K warm white version SaniBulb™ delivers warm inviting light that is indistinguishable from incandescent lights. This is made possible by use of rare earth phosphors for excellent color and warmth. In fact, according to a study performed by Popular Mechanics, CFLs scored higher than incandescent bulbs for overall quality of the light. In other words, CFLs aren't just better for both your wallet and the environment, they produce better light and they don't peek above most lamp shades anymore!
SaniBulb™ is Maintenance Free
Simply replace your old fashioned incandescent light bulbs with SaniBulb™ and forget about them. Since they last for over 8,000 hours, which is ten times longer then incandescent bulbs, you won't have to replace them for a very long time. Imagine cutting down on your trips to buy bulbs and the times you have to change those hard to get to bulbs. Also, since SaniBulb™ is completely quiet, you won't notice the difference while you enjoy your music, TV or share a quiet conversation. So switch to SaniBulb™ , sit back and bask in its long lasting, comfortable, energy saving light while it cleans your air.
SaniBulb™ Reduces Fire Hazards
Standard old fashioned incandescent light bulbs are very inefficient. In fact, over half the energy consumed by them produces heat, not light. Your home or business will be safer when you switch to SaniBulb™ since it produces less heat thus reducing fire hazards. This reduction in heat will also cut your AC bills when the weather gets hot.
SaniBulb™ Helps Fight Seasonal Affective Disorder (S.A.D.)
Seasonal Affective Disorder or S.A.D. is a type of 'winter depression' that affects millions of people every year during the winter months. S.A.D. is caused by a biochemical imbalance in the hypothalamus due to the shortening of daylight hours and the lack of sunlight in winter. SaniBulb™ (cool white) can help combat S.A.D and has the added benefit of cleansing your air. According to the National Organization of Seasonal Affective Disorder (NOSAD), light therapy has proven effective in over 80% of diagnosed cases with exposure from 30 minutes to several hours per day to a bright light.
Applications
SaniBulb™ can be simply used for effectively sanitizing, purifying and deodorizing your air while saving energy and enjoying warm inviting lighting in many diverse applications such as:
Homes: Kitchens, dinning rooms, bathrooms, bedrooms, closets, basements, living areas, pet areas, garages, new construction odors, furniture emissions, cooking smells, carpeting, diapers, paint, chemical contaminants, fragrances, mold, mildew
Medical: Medical offices, hospitals, hospices, clinics, morgues, autopsy rooms, funeral homes, nursing homes, operating rooms, patient rooms, isolation rooms, waiting rooms, veterinarian clinics, elevators, bathrooms
Food: Restaurants, cafeterias, bars, kitchens, bathrooms, food processing plants
Hospitality: Hotels, motels, resorts, spas, casinos, apar™ents, guest rooms, bathrooms, gyms, bars, restaurants, common areas
Commercial: Gyms, offices, day care facilities, labs, storage facilities, new construction, warehouses, printing, manufacturing facilities, bathrooms
Retail: Supermarkets, pet stores, pet grooming, nail salons, tanning salons, hair salons, retail stores, new construction, bathrooms
Educational: Schools, colleges, universities, libraries, bathrooms
Directions
Since SaniBulb™ fits into any standard light bulb socket, you can use it throughout your entire home and business in table lamps, floor lamps, ceiling fixtures, wall sconces and pendants. It's perfect for any area requiring automatic air sanitizing, purification or deodorizing without the use of harmful chemicals.
For best results, use one SaniBulb™ for every 100 square feet and install more as needed for areas with severe indoor air pollution problems. When used with a three-way switch, SaniBulb™ should be used at the highest setting for maximum effectiveness. Do not use SaniBulb™ with a dimmer switch or in an enclosed fixture.
Disposal
When SaniBulb™ burns out years from now, simply recycle them properly like any other fluorescent light, to minimize the environmental impact. To find a CFL recycling center near you, simply call 1-800-CLEAN-UP or go to earth911.org or lamprecycle.org
How Does SaniBulb™ Work?
SaniBulb™ combines the energy saving compact fluorescent bulb technology with nano photocatalytic materials and solid state electronic technology to produce a multi-tasking light bulb that sanitizes, purifies and deodorizes the air while providing comfortable lighting. The cleaning power of SaniBulb™ is made possible by a high tech next generation nano coating that acts as a photocatalyst. This means it harnesses light energy emitted from SaniBulb™ and sunlight to convert oxygen and moisture from the atmosphere to superoxide anions (oxygen with an extra electron) and hydroxyl free radicals. To make SaniBulb™ even more effective, superoxide ions are also produced electronically to complement the photocatalytic function. The superoxide anions, which are like oxygen on steroids, along with hydroxyl radicals provide sanitizing and cleaning power to destroy and convert germs, chemical contaminants and odors into harmless carbon dioxide (which is expelled during respiration) and water via a powerful process of oxidation. The wonderful thing about a photocatalyst is that is does not get depleted and this cycle continues indefinitely as long as light is available. As an analogy, plants also utilize a photocatalyst called chlorophyll which captures sunlight to convert water and carbon dioxide into oxygen and glucose. This innovative product truly harnesses the power of light and nature to clean your air safely.
Mechanism of Photocatalysis
When our next generation nano photocatalyst absorbs energy from sunlight or an illuminated light source (fluorescent lamps), it will produce pairs of electrons and holes. The electron of the photocatalyst valence band becomes excited when illuminated by light. The excess energy of this excited electron promotes the electron to the conduction band of the photocatalyst thus creating the negative-electron (e-) and positive-hole (h+) pair. This stage is referred as the semiconductor's 'photo-excitation' state. The energy difference between the valence band and the conduction band is known as the 'Band Gap'. Wavelength of the light necessary for photo-excitation is:
1240 (Planck's constant, h) / 3.2 ev (band gap energy) = 388 nm and higher.
The positive-hole of the photocatalyst breaks apart water molecules to form hydrogen gas and hydroxyl radicals. The negative-electron reacts with oxygen molecules to form superoxide anions. Superoxide ions are also produced by SaniBulb™ electronically to enhance the effectiveness of this process. The superoxide anions and hydroxyl free radicals oxidize the germs, chemical contaminants and odors into harmless carbon dioxide and water. This cycle continues indefinitely as long as light is available and the catalyst does not become depleted.
Choosing the Right CFL Bulb
Compact fluorescent light bulbs have come a long ways in both quality and variety since they were first introduced. Gone are the days of poor lighting quality and limited styles. These days, CFL bulbs come in many styles and the quality of the light is better than most incandescent bulbs. To get the best SaniBulb™ for your application, simply choose the correct wattage and color temperature:
Wattage/Light Output
When you purchase SaniBulb™, it's less about trying to figure out how many watts a bulb uses and more about the light output, or lumens generated by the bulb. When choosing the best SaniBulb™ for your application, simply choose the SaniBulb™ replacement from the table below to match your current incandescent light output. For example, if you are looking to replace a 100 watt incandescent light bulb, simply choose the 25 Watt SaniBulb™ replacement. It's as easy as that!
| | | |
| --- | --- | --- |
| SaniBulb™ Power (Watts) | Output (Lumons) | To Replace Incandescent Bulb |
| 15 | 825 | 60 |
| 20 | 1,100 | 75 |
| 25 | 1,500 | 100 |
Color Temperature
The color temperature of a light bulb can best be described as how the light compares to 'natural' sunlight. Outdoor sunlight has a color temperature of around 5,500K. Bulbs with a higher color temperature (closer to 5,000K) will produce light that is more 'cool' or blue similar to fluorescent tubes. Bulbs with a lower color temperature will produce light that is more 'warm' or yellow like incandescent light bulbs. The color temperature of a light bulb is usually described by how 'white' a bulb is, like 'warm white' and 'soft white'
The most popular residential light bulbs in the US are 'warm white'. We recommend choosing SaniBulb™ with a color temperature of 2,700K bulb for your home if you want to get the same warm effect as incandescent bulbs. If you are in a commercial setting or trying to get the whiter lighting typical of fluorescent light tubes, you should consider choosing the 'cool white' SaniBulb™ with a color temperature of 4700K.
Verified Customer Reviews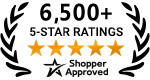 Products Related To The One You Are Viewing
* Required Fields
Ask Dr. No Odor a Question
Enter Your Name:

*

Enter Your E-mail:

*

Enter Your Question:

*

Enter Text

*



Past Question and Answers
Received:
DAVID: I was interested in purchasing the Sanibulb™ CFL bulbs to replace the light bulbs in most rooms in my home to help cut down on dust and other allergens, but I read somewhere that these type of bulbs must be used in an upright position to be effective. Is that the case? That seems to somewhat limit the types of lamps that the bulbs could be effectively used in. For instance, I had planned to place 4 of the Sanibulb™ Air Sanitizer CFLs in my family room which has an overhead ceiling fan with 4 lights. The glass shades are open ended and point downward into the room. Will this sort of arrangement not work with the Sanibulb CFL? Will the bulbs not work properly if I have them pointing in a downward position as with the ceiling fan light fixture? Also, because these bulbs would be in a ceiling fan light fixture I was wondering if it would help to disperse the negative ions throughout the room by having the ceiling fan running at the same time the lights are on? Will the negative ions travel to adjacent rooms if there is adequate air circulation (such as provided by a ceiling fan being on.) If the Sanibulb's are required to be in an upright position to function properly then that seems to limit the type of lamps they can effectively be used in to certain types of floor lamps that have a bulb pointing up. I have a few of those type of lamps with the large open ""bowl"" shaped glass shade pointing up , but I also have some floor lamps that have the bulbs pointing downward. Can the Sanibulbs™be used effectively in a floor lamp like that, with the bulb orientation pointing downwards? I would also like to place the Sanibulbs™ in my dining room chandelier. So again, in this case the Sanibulbs™would be pointing downward, in open-ended lamp shades. Is that ok? Thank you for taking the time to answer my questions. Answer: You can use SANIBULB'S in upright position OR pointing down and either should work fine. We have customers doing both with great results. Also, moving air around will help the SANIBULB's actually work better You can use them with ceiling fans or chandeliers. Only limitation is the bulb base size. If they can take a regular bulb, it should be fine. If they require the smaller base, unfortunately it won't fit. You can consider using PURAYRE™ Ionic Air Purifiers and SMELLEZE® Smell Removers to supplement SANIBULB if the bulb size is a problem. The PURAYRE™ fits neatly into any socket, great for allergens, and works 24/7 when turned on.
Received:
DAVID: Thanks, that's great to know that they work in either upright lamps or pointing down (ceiling fan light fixture). Also thanks for the link to the PurAyre™ Ionic plug-in purifier. A couple of follow-up questions if you'll permit me: If ONE Sanibulb™ will treat up to 100 sq. ft. (10' x 10') room, if I have a larger room like 15' x 12' or 22' x 18' can I just add more bulbs to the room, so if for instance I have FOUR Sanibulbs™in a ceiling fan light fixture in a larger room, that should be 4 times the treatment power as the 1 bulb, so should treat up to a 400 sq. ft. space, right? Especially if I have the ceiling fan on so that the air is circulating in the room, the ceiling fan should help to disperse the negative ions all around the room, yes? Or if treating a larger area is it better to have FOUR bulbs placed in 4 different lamps positioned in different parts of the room, plus the ceiling fan or an oscillating table fan to circulate the air? Answer: Yes, just use approximately 1 SANIBULB™/ 100 sq. ft. area. I think either method you mentioned would work. But if you have the option of placing a couple in ceiling fan and a couple on table lamps in a large room, you will get better results since they are spread out and allergens/odors don't have to travel as much to reach all the SANIBULB' s in the same area to be destroyed. Think of getting more 'local' action by spreading the SANIBULB's out in a larger room
Received:
STEVE KNIGHT: I live in SE Asia most of the time and we have a lot of problems with mold, mildew, etc. I like the product you are offering, but have a question. The electricity where we live is 220 voltage. Do you make bulbs that can withstand that level of electricity? ANSWER:The Sanibulb's are only available in 110 volts. I would recommend using PurAyre Ionic Air Purifiers & Deodorizers instead. These are available in 220 volts and work to eliminate and prevent mold and mildew odors. In addition, you can also use MOISTURESORB Moisture & Mildew Odor Removing Pouches to prevent mold and mildew odors. The advantage of this product is that it does not require electricity to work.
Received:
TOM: I have a lot of house plants. Will this t8 bulb harm my plants?
ANSWER: The light emitted from this product is comparable to other fluorescent lights and it should not harm plants